How to Export MBOX Files to EML with zero limitations?
This is a step-by-step guide that talks about simplest way to convert MBOX to EML files with free tips. The primary techniques mentioned for MBOX mailbox to EML conversion are both for beginners & experts.
Introduction: MBOX to EML Conversion
MBOX & EML both are widely used email file format for Windows & Mac based email applications. However, EML stores a single message as .eml and on the other hand MBOX maintains a collections of email messages. However, due to many circumstances like if a MBOX file gets corrupted the full mailbox is destroyed. This may be not the ultimate reason to export MBOX to EML in batches. But, knowing a easiest trick to convert MBOX files to EML format can help you anytime in future as most of the popular mail clients like Thunderbird, Eudora, SeaMonkey, eM Client, Opera Mail, Entourage, and many other. So, knowing a helpful way for switching MBOX mailbox folder to EML single message can be your go to solution in many ways.
Why a user want to Convert MBOX to EML files?
As we have talked in the above section, MBOX and EML are some of the standard file formats for keeping email messages for long time. Also, these are highly-compatible with several of the email clients. Therefore, conversion between the two MBOX and EML is one of the globally asked queries by users:
Here are some of the handpicked scenarios of users all over the world requesting for solution to convert bulk MBOX files into EML extension format.
Now, let's move on the go-to-solutions for solving MBOX to EML files conversion scenarios.
I am a Eudora Mail user who wants to convert the Eudora .mbox file to .EML files. I tried through the export method but the folder are blank when opened and contain no emails. – Garry
I tried a free edition of a MBOX Converter does not migrate the dates of the Eudora emails from the original file to EML format but stamps them with the PC date & time of Conversion. – Arthur
Top-notch Techniques to Export MBOX Files to EML in Bulk
Firstly, we will talk about the manual solution for limited MBOX data conversion into EML format.
Afterward, we will tell you the expert trick to convert MBOX to EML with & without attachments. Also, no limitation on numbers of MBOX files converted into EML format.
So, here we go!
Section 1: Manual Approach for MBOX to EML Conversion
The below mentioned steps are only applicable in case you want to convert single MBOX file to EML format. Also, there is no reliability for sharing MBOX file with attachments.
Run your Thunderbird profile.
Select the MBOX mailbox for selecting emails.
Choose the MBOX email convert to EML and right click.
Now, apply save as option and mark a location to get the resultant file.
Finally, hit the Save tab.
However, this method is big NO for converting bulk MBOX files to EML format. Moreover, it also restrict MBOX to EML file conversion with attachments and maintained attributes.
Therefore, let's move on to the ultimate professional solution for switching MBOX to EML without limits.
Section 2: Convert Multiple MBOX emails to EML in one go!
DotStella MBOX File Converter toolkit is an awesome solution for beginners and expert to move unlimited MBOX files to EML format with all attributes secured. This toolkit is equipped with dual modes like Select File or Select Folder to choose the MBOX mailbox.
Also, it provide options like preview mode to read the MBOX messages with advance filters like header, properties, open and save attachments, and many more.
So, let's know the working of this standalone application for MBOX to EML conversion.
Convert MBOX to EML – Step-by-step Guide with Images
Download and start the MBOX to EML Converter software on Windows computer.
Hit the Open tab and select from Choose File & Choose Folder for uploading MBOX emails.
Tap on the MBOX email and read the message in the preview window with multiple options.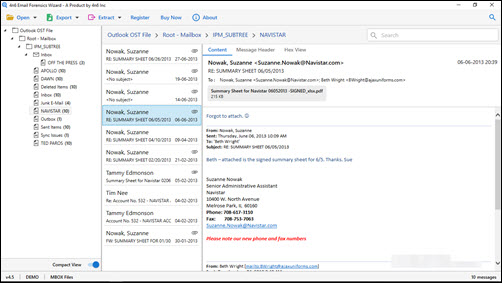 Save all attachments from MBOX emails at user desired location by using options Open, Save, & Save All.
Use the Search option to filter MBOX mailbox messages using the Quick and Advance mode.
After all, go to the Export tab and choose EML from email file format for your conversion.

Press the Save button and convert MBOX to EML format process initiated.
Free Download is available
In case, you want to test the software for converting your MBOX files to EML, download its
demo edition
. It is available for free of cost usage and allows user to
convert first 10 MBOX file to EML
as well as to
CSV
,
PDF
,
Text
,
HTML
and other format easily. Thereafter, you need to activate the license key of the paid edition to avail the advantages of pro edition.
The List of Special Features of the toolkit        
The best MBOX to EML Converter software provides number of advantages to the users. To know about it, checkout the below list.
The utility doesn't need any MBOX supportive email client application for conversion.
It is independent to convert multiple MBOX files to EML with attachments.
The software to convert MBOX to EML supports the file with .mbox extension from all email clients.
The Select Folder options helps to export bulk MBOX emails to EML at once.
It also convert the MBOX email attachment to resultant EML files for user convenience.
The MBOX file to EML Conversion toolkit doesn't modify a single information during conversion.
It comes with Quick Search Mode that helps in filtering information from MBOX files.
The Advance search provides various modes to sort out MBOX files as per user need.
The toolkit has an in-built preview mode to read MBOX messages with attributes.
It has a special extract option to fetch out email address, attachments, phone number, etc.
The Conclusion
MBOX to EML Conversion queries are always trending on internet. The above blog post talks about the free and easiest solution resolve this query. It also highlight the most popular & workable solution to convert MBOX to EML without any data loss. if you need to you may also use the given solution to import MBOX files to iCloud, Hotmail, Yahoo Mail, Gmail and other services.