How to Export MBOX to HTML File Format in Simple Steps?
People, in the current generation, generally use more than one email client application to send or receive email messages. The inbox fills up quickly because most communication takes place via email. One solution to this problem is regular archiving of email messages. HTML is also one of the most popular file formats used to store emails on your local system.
Most of the email applications save all emails data including attachments, in the MBOX format. Therefore, the process of converting MBOX to HTML format is gaining more importance and popularity day by day.
Overview About MBOX and HTML Format
MBOX saves everything linked in a text file. It is capable of storing multiple emails with its attachments in one file. It was first introduced for use on Unix platforms. Nevertheless, with its simple structure, it has become the main format used across multiple operating systems like Thunderbird, Eudora, and Apple Mail.
On the other hand, HTML is the most basic requirement for web pages. It can be displayed in a web browser. This file is easy to edit with a text editor.
Why MBOX to HTML?
There is no technical reason behind this process. It depends on the needs of users. Simply opening emails directly in a web browser is one of the reasons why MBOX files are converted to HTML. Users can also open and send HTML emails from various email applications. However, only e-mail programs that are compatible with MBOX can open and send such e-mails.
How to Convert MBOX to HTML without Limitations?
DotStella MBOX Converter is one of the best tools for exporting emails from the MBOX folder to HTML format. This utility is a simple and easy to use program that migrates bulk of MBOX items into HTML. Also, it doesn't impose any file size limitation when converting MBOX to HTML. In addition, it preserves the complete hierarchy of the data structure on the disk via migration tasks. Apart from this it provides the advanced search option to find emails by keywords, phrases, etc.
Procedure to Export MBOX File to HTML Format Directly
Click the "Download Now" button to launch the MBOX to HTML converter tool. Install it on a computer or laptop with the Windows operating system installed.
Once the installation is complete, run the software and click on the Open.
This will launch a menu where you must select the MBOX file option, and then pick the select folder option.
Browse multiple MBOX files collectively by locating the path of the save source folder. Hit on it, then click the "Select Folder" button.
Preview data items of added MBOX folder in MBOX to HTML converter tool. Take your time and watch everything carefully.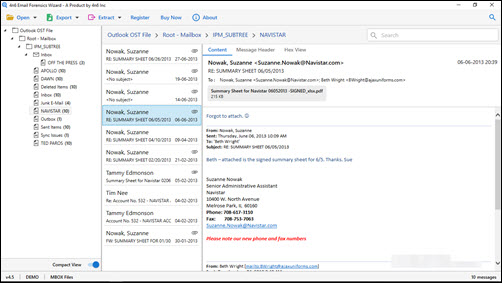 Continue to convert the MBOX file to HTML with attachments by clicking "Export" >> "HTML".
Click the Browse button to set the location where you want to save the resultant HTML document.
Finally, click Save to start the process of converting MBOX to HTML along with attachments.
Remarkable Features of MBOX to HTML Converter
There are several useful functions in our solution to convert MBOX to PDF with attachments. Nonetheless, we have highlighted some wonderful aspects of the method to export MBOX files to HTML documents:
No supporting application is required- MBOX to HTML converter does not need to install a supporting mail client. Mozilla Thunderbird, Apple Mail, Entourage, etc., no need to move MBOX emails to HTML documents. This measure applies to orphaned files with a .mbox extension.
Convert multiple MBOX files in batch– If you have multiple MBOX files in a folder, you can convert all the files to HTML at the same time. Yes, the MBOX file to HTML exporter supports batch conversion from MBOX mail to HTML with attachments. There is no limit to the number of files that can be processed at the same time.
Export MBOX to HTML Selectively: This utility for adding MBOX emails to HTML has a special feature that allows you to selectively convert only the files you need instead of converting the entire MBOX mailbox.
Compatible with all Windows Operating Systems: The software to move the MBOX items into HTML is supported with all previous and latest Windows editions such as, Windows XP, Windows Vista, Windows 10, Windows 7 and so on.
Final Thoughts
DotStella MBOX to HTML Converter is a great utility to export MBOX emails from several email clients. The tool comes with a free demo that enables you to move 10 emails from each MBOX file so the user can evaluate the working of the program before investing. Free MBOX to HTML Exporter can also be used to test and validate workflows before purchasing. Plus, the software company provides a 30-day money-back guarantee and 24/7 tech support, so just enjoy the conversion in hassle free manner.