How to Import Emails from MBOX to iCloud Account in Bulk ?
Are you looking for a solution to import email from MBOX to iCloud account? If Yes, then read this blog in detail.
Here we describe the complete process of migrating MBOX emails to iCloud account.
So, let's get start..
DotStella MBOX Converter is the highly recommended application to import complete data from MBOX file to iCloud. This software has the ability to transfer MBOX data to iCloud account without losing a single information. It always preserves email properties during the import process. This task is easy to accomplish with a few simple clicks.
Simple Steps to Import MBOX to iCloud Account
Free Trial: Do you want to check out tool before investing ? If say Yes, then this is possible with the feature of free demo. We have added this free software for our users so they can see how the tool works and what it does before investing in it. Additionally, you can upload 10 data items from each folder. If you think this is the best solution for your requirements, purchase the licensed version for unlimited migration.
Free Download MBOX to iCloud converter and Install it on your computer or laptop with a Windows operating system.
After the installation, run the software and click on the "Open".
This will launch a menu where you must select the MBOX file option, and then choose the Select folder tab.
Extra Tip – The Select files option allows you to add individual files with the .mbox extension.
Browse multiple MBOX files > specifying the path where the original folder is saved. Click on it and then click the "Select Folder".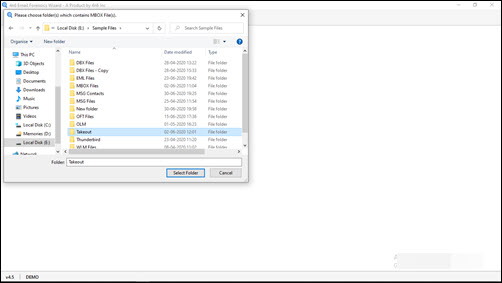 Preview the data items of the MBOX folder added in the MBOX to iCloud import tool.
Continue the process of converting MBOX files to iCloud with attachments by clicking Export >> IMAP.
In this step, Enter the iCloud login credentials with IMAP Settings.
Finally, click Save to start the process to import MBOX to iCloud with attachments.
Finished! Here's how you can import .mbox file to iCloud with attachments in few simple steps.
Note: Enable IMAP through the iCloud settings option.
Spectacular Features of MBOX to iCloud Software
The solution for exporting MBOX files to iCloud with attachments has some useful features. Still, it emphasizes some of the great aspects of the approach to import MBOX into iCloud account:
No Supporting Application Required – The software does not require installation of any supporting email client. Mozilla Thunderbird, Apple Mail, Entourage, etc., nothing is needed to import MBOX emails to iCloud account. This measure works smoothly with orphaned files with the extension .mbox.
Selective MBOX Data Migration: Do you have a lot of MBOX data? Need to transfer selected folders to your iCloud account? If so, that is also possible. The tool allows you to check only those folders from which you want to transfer data. This feature also helps reduce migration time and effort.
Bulk Convert Multiple MBOX Files – If you have a folder with multiple MBOX files, you can convert all files at the same time to iCloud. Yes, this utility supports bulk convert MBOX emails to iCloud with attachments. There is no limit on the number of files processed at the same time.
Supports iCloud Email Properties: When transferring MBOX to iCloud, the tool retains all email properties. No changes or modifications will be made to the original formatting of the iCloud database. You can safely get accurate and accurate migration.
Windows Compatible Application: This software is compatible with all versions of Windows operating system. Users can easily install this application on their computer. Users can now easily import MBOX emails to their iCloud account without any difficulty.
Frequently Asked Questions
Q1: I have a large number of MBOX files and I want to upload individual folder data to iCloud account.
A: Yes, this program successfully upload selective MBOX email to iCloud account.
Q2: I need to import MBOX with all attributes to iCloud account. Does the tool support the same function?
A: Yes, using this application, users can easily import MBOX emails to iCloud with all properties completely.
Q3: Does this utility work on Mac computer ?
A: No, it is only a Windows compatible tool. The application is not compatible with the Mac operating system.
Closing Words
In the above blog, we explained the complete process to import MBOX to iCloud and all the attributes. Using the above applications, you can easily perform batch or single migration without downtime. You must note that the suggest application, in additional to the icloud, also enables you to upload MBOX files to Hotmail, IMAP, Gmail, Yahoo Mail and more.
In addition, if you encounter any problems while using the application, please contact our technical support team.