Fix 'Unable to Open .oft File in Outlook 2016' Error : Quick Solution
Summary – Get to know about the best technique to fix 'unable to open OFT files in Outlook' on Windows operating system. Generally, the 'cannot open OFT file' error occurs due to the absence of Microsoft Outlook mail client. Also, this problem arises because investigators are unaware of the proper steps to open OFT files in Outlook.
I can't open OFT file – This issue is raised by one of my teammates. He dropped me an email in which he described the problem that he is facing while running .oft files. We need to investigate a cybercrime case and it is important to open and view content of Outlook item templates. Please suggest me a method through which I can analyze OFT file. Also, it will be of great help if you guys recommend an approach that does not demand for Microsoft Outlook installation because my teammate doesn't have it. So, please keep this in mind while suggesting a technique. Thanks in advance!
How do I open OFT file in Microsoft Outlook 2016?
Why my system is showing 'can't open .oft' error?
Is it possible to access OFT file without MS Outlook?
Can I investigate OFT file without its native program?
Such type of questions are raised either by forensics experts or Microsoft customers. Our duty is to suggest them an effective and efficient method to solve their problem. Well, we are going to provide a free and suitable approach to fix 'can't open OFT file' error. Let's begin!
Free Way to Resolve 'Unable to Open OFT Files' Issue
The method is easy-to-perform and the best part is that it does not demand for Outlook installation to use it. Without wasting much time in useless words, let's read out the following steps to troubleshoot 'cannot open .oft file in Outlook 2016' error :
Download the setup file of Microsoft OFT file viewer and install it. This application is available for free and enables people to fix the error without spending money from pocket.
Once the installation gets finished, run the application. Click on Open to expand the menu.
Select Choose Files option to browse .oft files that were showing 'unable to open OFT files' error. If wish, you can add more than one OFT file at a time.
This opens a window where you have to locate the path to add source files that are saved on your PC. Select those files and then click on Open button.
Finally, the 'can't open OFT file' error has been troubleshooted. You can view each template with associated properties and attachment. Also, you can see all the meta properties like raw message properties, header information, hex view, etc., of the chosen template.
You can use this solution for free and that too for lifetime. There is no restriction of time duration while using the approach to fix 'unable to open OFT files' error. Also, investigators can utilize this particular method to convert OFT to HTML and PDF legal documents.
Next Read: How to Remove Metadata from Files?
Resolve 'Can't to Open OFT Files' With Outlook
The solution that we provided in the above-section involves a freeware but, sometimes people say – cannot open .oft file in Outlook 2016. In such case, majority persons want a method to open OFT file in Microsoft Outlook itself.
"Hello all! My elder sister has provided me few Outlook item template files that I have to open in my Outlook profile. I am using Outlook 2019 on Windows 10. I tried to use Import/Export wizard but there I don't found any option to import OFT file. Please can you help me in opening OFT files in Outlook 2019."
Following steps are useful for those users who wish to resolve unable to open .oft file in Outlook 2016 or any other version :
Double-click on the Outlook app's icon to launch it and then, open your profile.
Click on the New Items from the toolbar of Microsoft Outlook. From the displayed menu, select More Items option.
This opens a sub-menu where you have to select Choose Form option. This opens a window where you have to click on 'Look in' drop-down menu.
Here, you have to click on User Template in File System to resolve 'unable to open .oft files in Outlook 2016'.
Choose the template that you wish to open in Outlook 2016. Finally, click on Open button.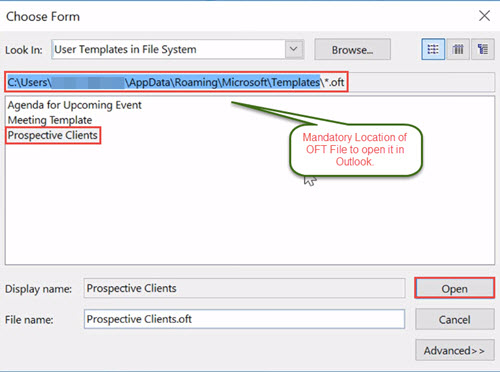 Note – It is mandatory to set the OFT file location as it is as highlighted in the screenshot. If there is any change in the location, this solution will not work. And you have to opt for free OFT file reader to solve the error.
Observational Verdict
The post provides solution for the error – unable to open .oft file in Outlook 2016. The approach is rendered with and without Outlook too. Professionals can implement this method, if they are going through cannot open OFT file problem. However, if professional wants to convert OFT to EML so that they can easily be opened in Outlook; they can also do so.