How to Convert MBOX Emails Selectively ? The Solution is Here
"Hello All, I used your MBOX viewer tool on Windows 10 to open and read content of Google Takeout MBOX file on my laptop. The freeware worked amazingly for me and I loved the way it has been designed. Now, I have some crucial emails that I wish to save in PDF format so as to share them with my teammates. I read your product page and found that its converts MBOX to PDF documents. So, can you please tell me that after purchasing the full edition, how can I convert selective emails from MBOX files?"
There are several customers who wish to convert MBOX email to PDF / HTML / TXT / CSV / EML via MBOX file conversion tool. They know that how this freeware works as MBOX data converter but, they face struggle while importing MBOX file emails selectively.
In order to fix this common issue, we have prepared this write up in which customers will find solution to this particular problem. They will be able to save MBOX file emails in any desired format with help the steps described here. So, what are we waiting for? Let's start…
Convert MBOX Email in a Selective Manner
Its time to click on Open >> Choose Folders to browse one (or more) MBOX folder in the software for exporting purpose.
Additional Tip – You can also use 'Choose Files' option to browse a single (even more) file.
The tool begins extracting emails and associated content. Once the extraction procedure gets completed, the solution loads all folders on left-hand side of the panel.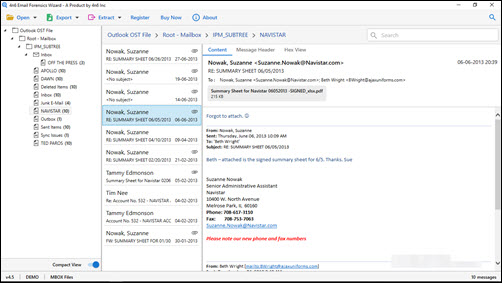 Click on a folder whose particular emails you wish to save in PDF or any other file format.
Its time to right-click on an email that you want store separately from MBOX file.
This opens a menu having several file format options. Now its your time to select the target file format.
Define the location where you want to save the resultant file and click on Save button.
Repeat step (6) and (7) to selectively save all MBOX emails.
Finally, its done!
Only these steps are necessary to convert MBOX files emails selectively. Customers are free to choose any number of messages at a time. There is no limitation imposed in MBOX email conversion regarding the same.
Also, we want to tell our client that the software supports MBOX file of Apple Mail, Thunderbird, Google Takeout, PocoMail, Entourage, and all email apps that create .mbox. Professionals don't have to worry or get panic, if they have a file having .mbox format because we are here to help them in all aspects.
Some Common FAQs 
Apart from the question i.e., How to convert MBOX email selectively, there are many other queries that come in customer's mind. Therefore, we are listing down some of the frequently asked questions along with answer of each.
Q1: Does your solution cause any harm to email integrity?
A: No, not at all! We know that an email comprises of header properties, crucial internal content, and attachment(s) in it. Therefore, our developers had programmed MBOX database migration in a way that it does not cause a single harm to email properties. It keeps To, Cc, Bcc, hyperlinks, sender's address, receiver's address, etc., intact.
Q2: Can I convert MBOX emails having attachment in them?
A: Yes, you can! The solution to save MBOX file supports conversion of emails that have attachment(s) in them. Also it does not boycott such type emails and include them in the conversion procedure.
Q3: What changes will be made in attachment(s) properties?
A: There will be no manipulations made in the existing properties of email attachment(s). Each attachment will be kept untouched and its file format will be same as it was originally in MBOX email.
Q4: Is it possible to save attachment separately on computer?
A: Yes, you can do this without any hassle. For this, you simply have to click on 'Attachment' tab and right-click on the attachment that you wish to save. After that, hit on the 'Save As' option to save your mail attachment locally.
Q5: Does your tool works with Google Takout MBOX of 50GB?
A: Yes, our technique for importing MBOX file works smoothly with MBOX file of large size. So, no matter what is the file size, it works in the same way as it works for small size MBOX file.
Q6: Is there any need of supportive app to use MBOX data exporter?
A: No, the MBOX converter is an independent method to export MBOX from Gmail on Windows 10, 8.1, and below version. Also, tt does not require installation of Thunderbird, Entourage, PocoMail, etc., to operate.
You can read out these FAQs to fix your query i.e., convert selective emails from MBOX files without any delay. However, still in case your problem is unsolved then, don't hesitate. You can contact us immediately without giving it single thought. We are always there to serve you with the best.
Time to Say Bye
We have provided in-depth approach to convert MBOX emails in a selective manner. Customers can implement each and every step as told to them. We hope that we were able to fix your problem with ease. So if you like the solution, please rate and review it. Your feedback is valuable for us.