Best Way to Export Email Addresses From Windows Live Mail / WLM Account
Are you eagerly in search for an approach to extract email addresses from Windows Live Mail but, not capable of getting an appropriate method?
Now not to take tension! Because you have landed at the correct digital page. In today's blog, we are going to describe about a foolproof approach to export email addresses from Windows Live Mail.
"It is like a nightmare for me to extract email addresses from WLM account. The major challenge with me is that Microsoft Windows 10, 8.1, and 8 does not support this mail client. Another challenge is – I am having detached database file of Windows Live Mail. God only knows how will I be able to get solution to my problem. Although I tried demo versions of around 6 to 7 utilities but, none of them worked for me.

Sometimes the tools are not meeting my standards needs, some are causing hanging scenarios during the process execution. I had putted my maximum efforts in searching for a solution to extract email addresses from Windows Live Mail. And now I am done! Can anyone of my social media friends help me out in this problem? Please help me in troubleshooting the issue so that I can complete my task as soon as possible."
Alike above, several humans are there who have raised their voice to get a workable solution to export email addresses from Windows Live Mail. Our support team helped such customers with 100% satisfaction level. This was possible because of a smart utility named as Email Addresses Extractor for Windows Live Mail.
It is a devoted and secure area where users can extract email addresses from WLM. Technical issues like content manipulation, data breaches, information loss, etc., do not occur when a person utilizes this solution.
Now without wasting much time in useless words, let's learn that how is it simple to export Windows Live Mail email addresses. Later, we will be resolving some of the commonly asked user-based queries that comes regarding this approach.
How to Extract Email Addresses From Windows Live Mail ?
The email addresses extraction tool allows clients to flawlessly add email address from Windows Live Mail. Following are the steps that will make you feel that how easy it is to change email addresses from WLM :
Expand the menu of Open and from the list, select Windows Live Accounts option.
Click on Choose Folder button to add the folder in which source WLM emails are stored.
In just one second, the software automatically loads email folders on the left-hand side of the screen. You can click on anyone of the desired folder and preview its messages with or without attachments.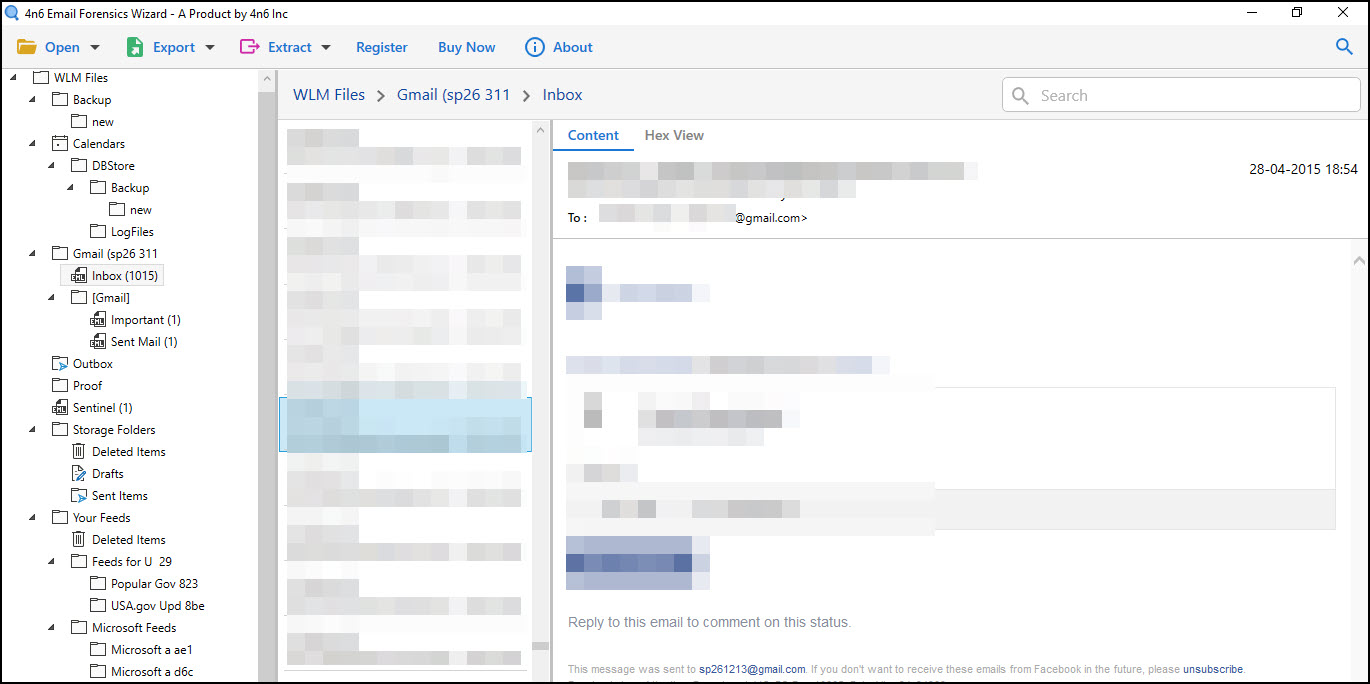 Now its time to click on the drop-down menu of 'Extract' and choose Email Addresses from the list.
First of all, you have to select the folders whose emails are to be processed for extraction purpose.
After this, you have to select the fields from which you want to fetch email addresses.
Continue with the procedure to extract email addresses from Windows Live mail by clicking on Extract button.
The tool begins extracting of email ids and simultaneously, load all of them in 'Email Addresses Found Box'.
Finally, its time to click on Save button for saving all the email ids of WLM file in a text file.
And see its done from your end!!! The tool starts the procedure of exporting email addresses from Windows Live Mail. When the entire procedure gets finished, the extractor automatically flashes a dialog box. This provides the information about the process completion and ask users to check the resultant email addresses file.
Key Features of WLM Email Addresses Extractor
Not only one but, there are several attractive features of this solution to move email ids from WLM. Since this is not the product page therefore, we are not listing down all features of the tool. But, we want to give answer of a question i.e., Why only this email addresses extractor tool for WLM? Following are the points through which we will give answer to this question :
Extract Email Addresses from Attachments – One of the unique feature of this utility is that it allows consumers to extract email addresses from attachments of WLM emails. Yes, you are listening correctly! For this, you have to enable this feature and command the software to fetch email ids from the messages' attachment.
Works Flawlessly With Orphaned WLM Folder – Most of the times, customers hesitate from using any effective approach because they assume that WLM installation is mandatory. But, let us tell you that 'this WLM email addresses extraction software doesn't require WLM program on PC for its working.'
Some Common Queries Raised by Customers
Q 1: I am using Windows 10 operating system on my PC. Will your software export email addresses from Windows Live Mail on Win 10?
A: Yes, you can add email addresses from Windows Live Mail on Windows 10, 8.1, and below versions.
Q 2: I am having around 9 sub-folders in my WLM folder. Is your application capable of holding all these folders collectively?
A: Yes, no matter how many email folders are present in the browsed WLM database file. Our software has the capability of extracting email ids from multiple folders at a time.
Q 3: In which format does your solution extracts email addresses from Windows Live Mail? I want to the format of resultant file.
The file format is TXT, which gets easily opened in Notepad program on Windows OS.
Q 4: I want to fetch some crucial messages from WLM files. Does your software extracts emails from Windows Live Mail?
A: Yes, emails with or without attachments gets easily extracted from our WLM email extractor utility. Instead of 'Extract' option, you have to use 'Export' option to accomplish this task.
We Hope, We Helped You The Way You Needed
One of the easiest approaches to extract email addresses from Windows Live Mail has been provided in this post. Users can test this approach on their own by using the trial edition. It is available for free of cost at the official website. The free version of this tool is embedded with all the standard features that are told to you. However, the only limitation of this version is that – the solution extracts only 10 email addresses. You can remove this limitation by purchasing the full version of this utility.