MBOX Attachment Extractor to Retrieve & Extract All Attachments From MBOX File
Is it possible to store attachments separately from MBOX on computer?Can I fetch attachments from emails of MBOX without Thunderbird?
What should I use to retrieve attachments from Google Takeout Files?
How do I extract attachments from MBOX files?
You are looking for answer to one of the above listed questions. And this is the reason due to which you are here at DotStella blog. Obviously, you have an expectation of getting a workable and easy method to extract all attachments from MBOX files.
Considering the need of today's generation, we are providing a foolproof technique to retrieve bulk attachments from messages of MBOX. This solution processes .mbox file of Google Takeout, Mac Mail, Mozilla Thunderbird, and other creating applications.
Now don't waste much time in reading useless lines… Quickly begin with learning of the simplest measure to save all attachments from MBOX emails.
How to Extract Attachments from MBOX Files ?
Launch MBOX attachment extractor wizard on your machine.
Click on Open >> MBOX Files. Select Choose Folder to proceed.
Browse the folder having bulk MBOX files in it and preview them.
Hit on Extract button to explore a menu & choose Attachments.
Set the location to archive fetched attachments & hit on Save button.
Save All Attachments from MBOX File With Most Trusted Solution
The best part about our recommended MBOX attachment extractor wizard is – professionals don't have to attempt any MBOX file conversion procedure to separate attached files from emails. There is no need of converting MBOX file to DOC, HTML, etc. The software renders a direct extraction option.
Well, following steps explain the in-depth working of MBOX attachment extractor :
Download the setup file of MBOX Forensics software on your system. Install it carefully to continue further.
After the installation, launch the app and click on Open button. This opens a menu where you have to click on MBOX Files option.
This launches a sub-menu with two options – Choose Folders and Choose Files. For demonstrating bulk extraction procedure, we are clicking on Choose Folder.
Browse and select your .mbox files. Click on it and then, hit on Select Folder button.
MBOX attachment extractor wizard begins fetching messages with associated attachments. When the entire data retrieval procedure gets completed, the tool automatically loads the fetched content on its preview panel. You can analyze this displayed data items for your convenience.
Begin with the actual procedure to extract attachments from MBOX file by clicking on Extract >> Attachments.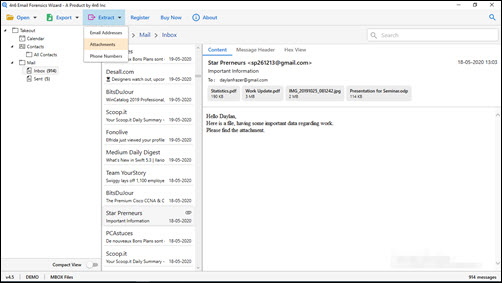 Check the checkbox of those mail folders or sub-folders whose messages you wish to include in extraction procedure.
Click on Browse to define the location for resultant files. And finally, hit on Save button for process initiation.
When MBOX attachment extractor wizard is done with its work, it shows a process completion statement. Here, you have to click on OK and close the program. Open Windows Explorer and locate towards the location that you had defined in Step (8), to check extracted files.
Why to Use MBOX Attachment Extractor ?
Extract Attachments from MBOX file Effortlessly – Now, it is no more a challenging task to save all attachments from MBOX files or folders. You simply have to add the file / folder in the application to complete the entire procedure. Also, the solution eliminates all the difficulties that individuals usually face at the time of extraction procedure from bulk MBOX files.
Software holds an Easy-to-Understand Interface – The MBOX attachment extractor offers simplest layout to extract all attachments from MBOX. There is no need of gaining any technical knowledge for fetching attached files from bulk amount of .mbox files. Even a novice user can utilize this product and archive attachments from Google takeout files on Windows.
Fetch Files Without Causing A Single Manipulation – Our solution to extract all attachments from MBOX does not cause any damage to existing properties of files. It is kept as it is even after the completion of retrieval procedure. Emails having attached files with extension .pdf, .jpeg, .docx, .txt, etc., all will be extracted in same format. Also, officials can use this approach on Windows 10, 8.1, 8, and below editions.
Demo Edition is Available for Free Downloading – The demo version for MBOX attachment extractor wizard is available for free. Customers who are interested to test and use the tool for their purpose, can achieve setup file without paying.  However, it has a small limitation in it that can be easily removed by purchasing full version.
Observational Verdict
We would suggest you to avoid use of add-ons provided to extract attachments from MBOX files. Firstly, these add-ons don't work independently and other reason for not using them is – high risk of virus to occur on PC. It is so because in general, these add-ons are present at unsecured websites where it becomes easy for attackers to attempt cybercrimes. Professionals should opt for a standard MBOX attachment extractor wizard to get all attachments from MBOX.