How to Import Opera Mail to Thunderbird Application?
This article describes how to quickly import mail from Opera to Thunderbird email profile. Easily migrate Opera Mail items to Thunderbird, including email and contacts. Download the free Opera Mail to Thunderbird Converter allows you to export emails directly from Opera Mail to your Thunderbird profile.
User Query 1: "After five years of using Opera Mail, I decided not to use it anymore. Now that Opera no longer provides technical support for Opera Mail, I am considering switching to Thunderbird. At same time I want to migrate my emails from Opera to T-Bird. Can someone suggest me a reliable solution for importing Opera Mail to Thunderbird? "
User Query 2: "I have been using Opera Mail for personal and official purposes for a long time. Now I want to move from Opera Mail to Thunderbird. I read on a forum that I need to export Opera MBS files to Mozilla Thunderbird. Unfortunately, I don't know how to convert .mbs files to MBOX format. Can anyone recommend me a method to import mail from Opera to Thunderbird? "
When users encounter difficulties using Opera Mail, they usually look for other ways to change their email client. One of those common options is Mozilla Thunderbird. It is also a desktop email client that you can use at no cost. It also provides features such as setting up multiple POP / IMAP accounts, quick search and sorting, data filtering etc.
These lucrative features often encourage users to switch from Opera Mail to Thunderbird. But the problem arises when they need to import MBOX to Thunderbird. Opera Mail data is stored in MBS and users need to know the import process of MBS file in Thunderbird. To help users in such a situation, this blog discusses the method to import mail from Opera Mail to Thunderbird.
Why People Prefer Thunderbird over Opera Mail ?
Opera Mail did not provide the Technical support anymore.
Data synchronization is a time consuming business into Opera Mail.
Thunderbird provides regular updates and add-ons. All of these are absent in OM.
Opera Mail does not provide secure signing of messages.
About MBS File
MBS files are basically a variation of MBOX files. The file was created in Opera Mail and contains Opera's email. Therefore, MBS files can be imported from Opera Mail to Thunderbird easily.
Free Download Opera Mail to Thunderbird Importer 
Download the software for free. This allows users to export the first 10 emails from each folder of TBD email client. Just follow the below simple steps, the job of this tool is very easy and simplified:
Steps to Import Mail from Opera to Thunderbird
Run "Opera Mail", select the Opera Mail option, then select Help > About Opera Mail. Alternatively, go to your browser's "Opera > Help > About Opera" Options.
It will show the path of the stored mailbox data. Copy the path in the clipboard.
Search the folder with all of this information or copy the mailbox items to the preferred location.
Launch the Opera Mail to Thunderbird Exporter software & install it in your Windows system.
This will bring up a menu where you need to Add the MBS File option and then select the Folder tab.
Additional Tip – Selecting the file option allows you to add a single file with a .mbs extension.
Browse various Data files> Specify the save path for the original folder. Click it, then press the Select Folder.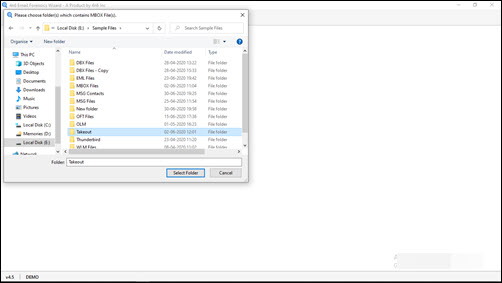 Preview the data items added to the MBOX folder in MBS Opera Mail to Thunderbird.
Click "Export" >> "Thunderbird" to continue the process of converting MBS files to Thunderbird with attachments.
At last, click on "Save" to start the import process from Opera Mail to Thunderbird email client.
Spectacular Features of Tool to Convert Opera Mail to Thunderbird 
The Opera Mail to Thunderbird export solution with attachments has several useful features. However, it highlights some of the great aspects of the approach to import mail from Opera to Thunderbird account:
No Supported App Needed- The software does not need to install any supported e-mail client like Mozilla Thunderbird, Apple Mail, Entourage, or more. It can import MBS emails to TBD accounts without any error. This measure can work seamlessly with orphaned .mbs files.
Opera Selective Mail Migration: Have a lot of Opera data? Need to move selected folders to your Thunderbird profile? If say yes, that is also possible. This utility allows you to mark the folders which you want to import. This feature also helps to reduce the time and effort of migration.
Batch Conversion of Multiple MBS Files– If you have a folder that contains multiple MBS files, you can convert all the files to TBD at once. Yes, this tool supports bulk conversion from Opera Mail to Mozilla Thunderbird with attachments. There is no restrictions to the number of files.
Supported All Windows Editions: This application is supported all versions of Windows OS. The Users can effortlessly install the tool on their system. Users can now simply import mail from Opera to Thunderbird account without any problem.
Conclusion                                                                                    
In the above write-up, we describe the whole process to import email from Opera to Thunderbird and all its elements. With the help of above applications, you can easily perform a batch or single migration with no downtime. If you have any issue using the software, please contact our technical support.