How to Import & Convert Outlook Mac OLM File to Thunderbird Email Client in Batch ?
"Hi, I am using Mac Outlook as my email client. After using it for a while, I understand that it is not as user friendly as other email clients. Now I'm looking for a way to transfer and convert Outlook data to Thunderbird. I have read about it and heard very good reviews about this email client. If anyone knows how to import OLM to Thunderbird account, please let me know. Thank you!!"
Free Download OLM to Thunderbird Converter Software
Bonus: The demo edition can convert 10 data items from each folder. Buy the licensed edition for unlimited conversion.
Import OLM to Thunderbird Directly in 5 Simple Steps
Download the OLM file converter software on Windows OS. Then follow the instructions to transfer Outlook Mac OLM data to Mozilla Thunderbird in a few easy clicks.
Run the recommended tool on the Windows machine.
Add the required Outlook OLM file using the Open File button. The utility offers two options for adding .olm files. These include "Open configured Outlook data files " and "Select from folder".
Now you can see the complete data of the selected OLM file along with the attachments.
In addition, the software provides advanced search function that you can search into OLM mailbox. The application also has various filters for searching emails, contacts, calendars, notes and more.
From the list of different formats, select the MBOX format that export OLM to Thunderbird folder. At the end, click the Save button to execute the conversion of Mac OLM file to Thunderbird.
After the process is complete, go to the storage location which you chose in the conversion process and import the converted OLM file into Thunderbird.
Process of Import OLM Files in Mozilla Thunderbird
First you have to Open Thunderbird in your computer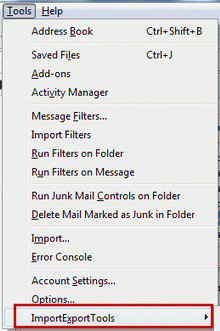 Now Go to Tools Option >> Click the ImportExport Tools

After that, hit on Import MBOX file option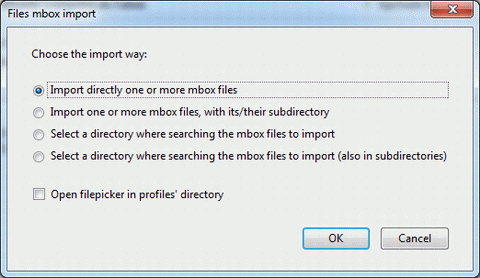 Browse MBOX file that you want to import into Thunderbird >> click Open
Read More about Outlook Mac OLM into Thunderbird Export Tool
This software can help you import OLM to Thunderbird account with the utmost precision. The best thing about this solution is a direct and effective solution. From beginners to professionals, all can use this utility to transfer Outlook for Mac OLM to Mozilla Thunderbird profile. All emails are converted from OLM to Thunderbird with each email properties.
Notable Features of Tool to Import OLM to Thunderbird Account
Reliable and Safe: OLM to Thunderbird converter is one easy way to import OLM files from Outlook to Mozilla Thunderbird with attachments. It provides accurate results without any changes or loss of data.
Easy to Understand: Utility to convert OLM files to Thunderbird is simple and user friendly. It comes with a good GUI for opening Mac OLM files with Mozilla Thunderbird.
Supports Batch Conversion: This tool is able to export OLM to Thunderbird en masse. It maintains all components and properties of OLM files during conversion. Batch conversion helps users save time and effort and do other work.
Filter Email with Search Mode: Mac OLM files to the Thunderbird utility are equipped with a Search button. This helps users find email files by date, subject, from and others.
Check OLM file Preview: This application provides a complete preview of the .olm file after checking the necessary folders. Also, you can easily save attachments.
Preserver Folder Structure: During the conversion process of Outlook for Mac files to Thunderbird, the tool keeps the structure and format of OLM files with attachments.
Independent Work: To transfer OLM files to Thunderbird, you do not need to configure the Thunderbird mail client for the OLM file in Thunderbird.
Why User Need to Convert OLM Data to Thunderbird Profile ?
Outlook (Windows) is very popular all over the world and we expected similar results with Mac Outlook 2011. However, initially Mac users created an email account on this particular Outlook 2011 platform, but I'm assuming this has improved like the version of Windows Outlook. Undoubtedly, Outlook Mac 2011 has extraordinary quality, great features, amazing attributes, and great performance to easily export Mac Outlook to MBOX. Technical expertise is also required to efficiently manage Outlook 2011 for Mac. So, after working with Mac Outlook became complicated, some users started thinking about transferring Outlook data to TBD.
Since Thunderbird is easier to use, email clients and many of them have this as their first priority, but there is no direct way to import OLM to Thunderbird application. You can only use third party tools to move Mac OLM file to TBD email client.
Thunderbird – A Preferred Choice
Mozilla Thunderbird is also an email client such as Mac Outlook 2011. Users can easily use it to manage their email data. In addition, Thunderbird is available in versions that support different operating systems. Therefore, many users prefer to import Outlook data files to Thunderbird.
The reason for this deserved popularity is the very simple user interface, some very useful functions, which can only be used in paid e-mail applications, some plug-ins available and the obvious fact that it is free. This is an important reason why many users convert OLM to the Thunderbird MBOX file format. Exporting Outlook for Mac to MBOX can be difficult, but with good tools this is easy. When it comes to conversions, Thunderbird stands apart.
Last Words
Read the useful user guide on how to import OLM to Thunderbird with attachments for Windows versions. The Outlook for Mac OLM to Thunderbird converter is an excellent utility for transferring multiple OLM files to Mozilla Thunderbird without any configuration. You can also try its free demo edition. There is no possibility of data loss and changes. So download the software now and get the best user experience.