How to Import Outlook OLM File into Mac Apple Mail ? Try This Solution
In today's write up, we will troubleshoot the commonly raised query of professionals i.e., how do i import OLM file into Apple Mail ? We have provided the workable technique to fix this problem. So, come let's start!
"My team leader assigned me a project in which I have to import Outlook OLM file into Mac Mail. Somewhere I read that if we convert OLM file to Apple Mail MBOX then, it becomes easy to accomplish the task. However, I don't know a standard solution to perform this. I don't have a single knowledge regarding export OLM folder to Apple Mail MBOX. Please can you guys help me by telling me an effective and efficient method to attempt the task. Thanks in advance!"
There are several officials who suffer from the problem of converting OLM file to Apple Mail MBOX. Either they use inappropriate solutions or they don't know the measure to execute this particular process. Therefore, it is our major responsibility to tell our readers that how to import .olm file into Mac Mail in an effortless manner.
Quick Solution to Import OLM File into Apple Mail
Launch OLM to Apple Mail converter on your system.
Click on Open >> Choose From a Folder option.
Browse source OLM file and then, click on Open.
Click on Export and choose MBOX to continue.
Hit on Save & then, import output MBOX in Mac mail.
Convert OLM File to Apple Mail : Solution Description
The solution calls for a Windows-based utility named as OLM to Mac Apple Mail converter. It is an independent approach to open and read OLM file on Windows operation system. The software is embedded with prominent functionality of exporting OLM folders to Apple Mail MBOX. Let's have a look on following steps to understand that how to import OLM file into Apple Mail :
Download the setup file of OLM to Apple Mail converter and install it. Once the installation gets finished, launch the application to begin importing OLM into Mac Mail.
Click on Open from toolbar of the utility and then click on Choose From A Folder option.
This opens a window where you have to browse towards the path of source OLM file. Click on the file and hit on Open button.
The software begins extracting items from the selected file and once finished, it loads all data on the preview panel.
You can have a look on each and every item present of OLM file. The solution shows email with its properties and attachments, if available.
When you are done with previewing OLM file, click on Export button from the toolbar. This opens a menu where you have to select MBOX file to import OLM file into Apple Mail.
Then  define the location for resultant file and then, hit on Save.
When the software is done with exporting of OLM folders to Apple Mail MBOX file, it shows a message box. It indicates that the file conversion procedure has been completed and now customers have to transfer this file in USB. Connect this USB device with Mac laptop or PC and then, import resultant MBOX file in Apple Mail account.
How do I Import Output MBOX files in Apple Mail ?
"I used your application to import OLM file into Apple Mail MBOX file. It was really helpful for me because the entire procedure got completed in just few minutes. The easy-to-use interface of the software enabled me to carry away the technical activities easily without any hassle. But, I have a problem – I have got MBOX file but, now I don't know that how do I import it in my Mac Mail account? Can you please assist me over the same?"
The final stage to complete the process to convert OLM file to Apple Mail requires opening of .mbox in Mac mail application. Some people know this method but some don't. With the perspective of troubleshooting all possible problems related to importing Outlook OLM file into Mac mail, we are listing down the steps to import MBOX file in Apple mail :
Launch target Mac mail application on your laptop to begin the procedure.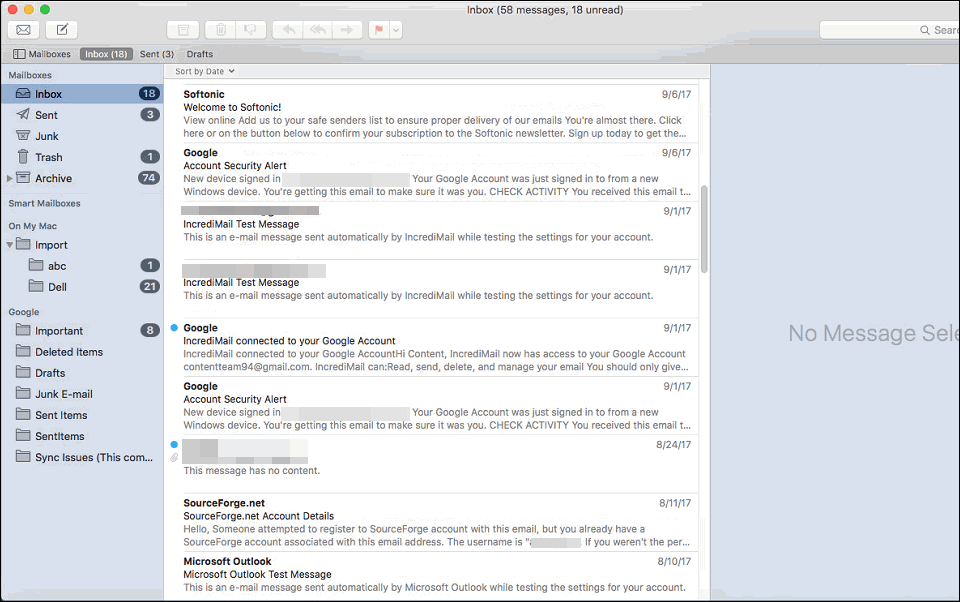 Click on File to explore its menu and click on Import Mailboxes option.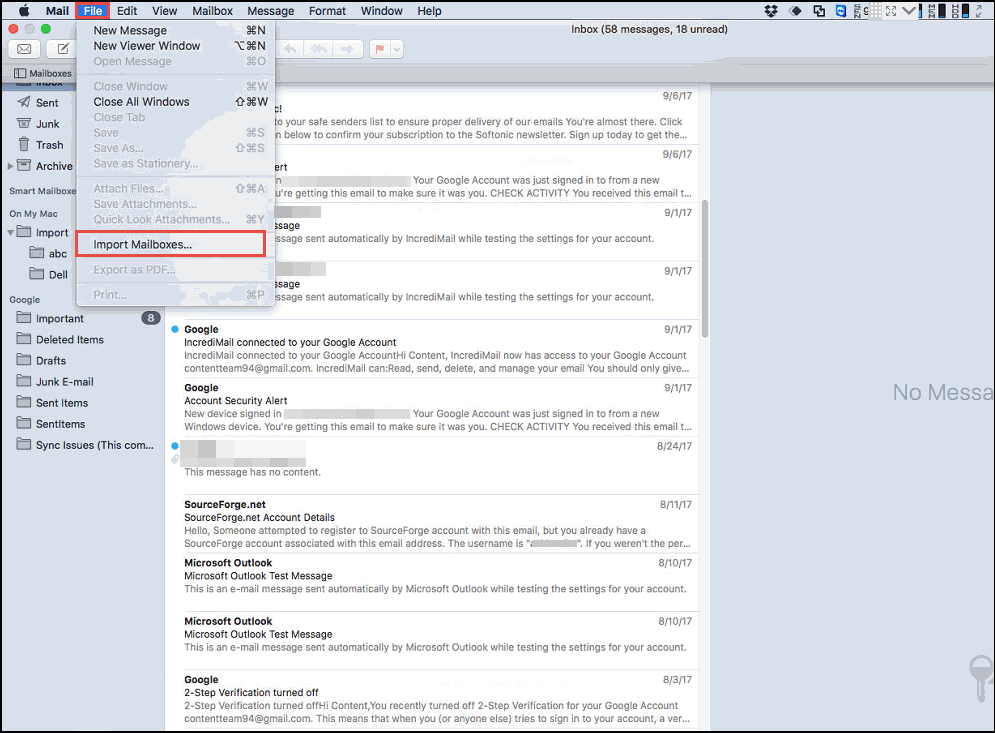 An import wizard gets launched in which you have choose 'Files in MBOX format' option.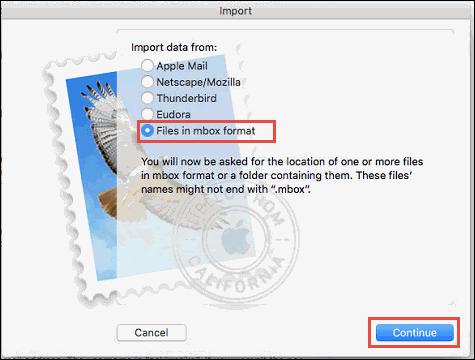 Click on Continue to proceed further. This opens a windows where you have to browse the location where software created MBOX file is stored.
Select the file and then click on Choose button.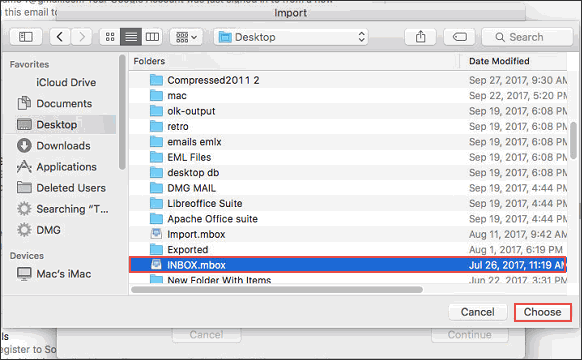 Finally, its completed. Click on Done.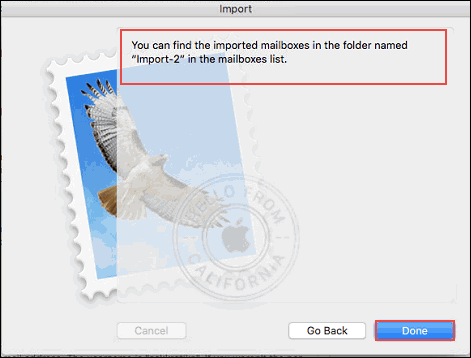 Now you can have a look on the MBOX file that is recently loaded in Mac Mail.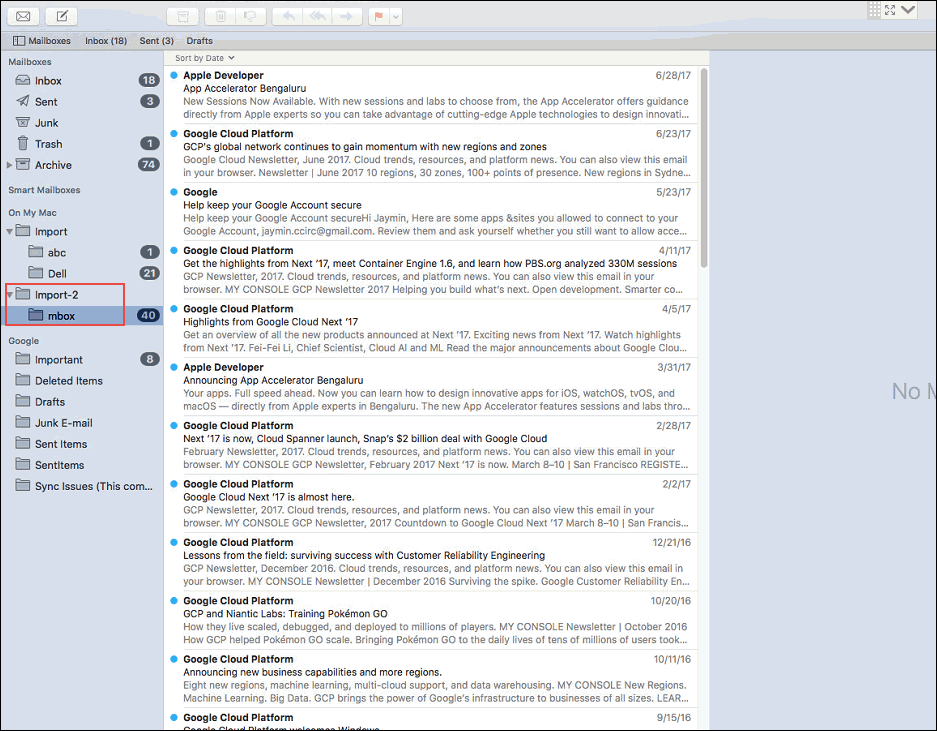 Time to Wrap Up
If you wish to import OLM file into Apple Mail and you don't know a suitable measure to perform the task, don't panic. Simply use the solution that we have described in this post. Before activating the licensed version, you can examine the approach for free by using the demo edition of the app. It is embedded with all features and functionalities in it that are needed to import Outlook OLM files into Mac Mail. However, the limitation of this version is that it exports only first 10 items from each chosen OLM folder. Professionals can eliminate this limitation by purchasing the licensed version of the utility.