Want to Retrieve Email Ids from Outlook for Mac OLM File ? Easily Do it Now!
Extracting email addresses from OLM file is need of an hour. Business officials look for this approach to download and save email ids from orphaned Mac Outlook file locally on PC. It makes it effortless to store all addresses safely on computer at a secondary location. Keeping the common need of enterprises in mind, we are going to describe that how to get email ids from OLM file. One can use this approach to retrieve ids from orphaned file of Mac Outlook 2016, 2013, and 2011.
Read the User's Problem : Hello DotStella team! I am a forensic investigator and use all your free viewers and migration products to print digital evidences in PDF format. It is really an amazing experience for me to use your solutions. Now I don't roam around here and there and whenever I face any tech issue I come to you, because I have a trust on you. 
With the same expectation level, I actually need a method through which I can extract email addresses from OLM file. I need it to fetch and archive bulk amount of ids from old OLM files. In order to free up storage space, I will permanently delete these files from my PC. So, can you please assist me with a solution to retrieve email ids from OLM file?
So, here we are with a foolproof method to fetch senders' or receivers' ids from orphaned or detached .olm files. This beneficiary approach allows saving of email addresses without any manipulation. Let's begin with reading of corresponding idea to deal with the problem on how to extract email addresses from OLM.
How to Extract Email Addresses From OLM File ?
Implement following listed steps to accomplish the task in an error-free manner :
Run OLM extractor tool on your system to begin.
Click on Open & choose Outlook Mac File option.
Browse OLM from which extraction needs to be done.
Its time to click on Extract >> Email Addresses.
Hit on Extract to initiate the actual retrieval procedure.
At last, click on Save for archiving TXT file on local PC.
Learn OLM Extractor's Working with Screenshots
First of all, you have to download the setup file of OLM file converter tool on any Windows-compatible system. Install this EXE on your PC and then, launch the app.
Once the software gets opened in front of you, click on Open and choose Outlook Mac File option.
Again, a new rectangular box appears in which you have to click on Choose from a Folder. This needs to be done to browse a single .olm file from your system.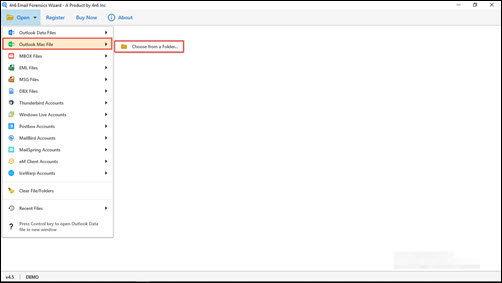 Well, a Windows Explorer wizard appears. In this dialog box, you have to locate the path where OLM file is stored. Select it and then, click on Open button.
The OLM extractor starts fetching data folders from added file. Automatically, it loads all folders in a systematic hierarchy at left-hand side of the panel. You can preview items of each folder to analyze the browsed file.
When you have previewed your files, click on Extract to expand its menu. Choose Email Addresses from the displayed list.
Check the checkbox of the email folders from which extraction procedure needs to be carried away.
Use Browse button to locate the path where OLM extractor tool will save resultant TXT file. This output text file will be having all fetched email addresses in it.
Now, you have to select the fields like From, To, Subject, Message body, etc., to get ids from each processed emails.
Initiate the overall procedure by clicking on Extract button. This permits program to begin extracting email addresses as per the defined settings.
When you finish the Step (10), you can have a look in 'email addresses found' field. Click on Save to store these retrieved addresses in a text file for easy access.
Saving of email ids separately in a TXT file, enables enterprises to fetch email ids easily without any hassle. It eliminates the overall searching time while searching for a complete email address and consumes less storage space. Apart from this, reason could be any but, its crucial to be aware about a workable technique to extract email addresses from OLM file.
Frequently Asked Questions
Q1: Where will your OLM extractor tool save TXT file after saving procedure?
A: The file will be saved at the location, which you had defined in 'Location' field of the program.
Q2: Can I open .txt file by using Notepad application on Windows 8.1 system?
A: Yes, of course! The text file will be accessible by Notepad and other applications that supports its opening.
Q3: Will your product fetch multiple ids from more than one OLM at one time?
A: No.. You can process only one OLM file at a time. This file can be of any size – large, medium, or small. And can have huge folders and sub-folders in it. However, you cannot process multiple OLM files at one time.
Q4: What limitation is present in demo edition of Mac OLM extractor product?
A: There is only one limitation present in demo / free edition of the software i.e., you can save on first 10 extracted email ids to .text file. It is possible to extract email addresses from OLM file without any limit by purchasing licensed edition of the app. The purchased edition enables you to import OLM file to Outlook for Windows and do other things also.
Q5: Does your Microsoft OLM file extraction tool works on Mac operating system?
A: No, our OLM extractor utility is a Windows-based utility, workable on Windows 10, 8.1, and below editions.
Conclusion
There is no need to install Microsoft Outlook for Windows or Mac to extract email addresses from OLM file. Officials simply have to download, install, and run OLM extractor to accomplish their work independently. It will not cause any damage to existing properties of emails and keep the data intact throughout. We hope that we helped you at our best and it will be a good experience for you to retrieve email ids from .olm file.